It's that time of year…  US Ryder Cup  https://www.rydercup.com/ comes to Whistling Straits in Kohler, Wisconsin from Fri, Sep 24, 2021 – Sun, Sep 26, 2021.
The Ryder Cup has become one of the world's greatest sporting events. Every two years, 24 of the best players from Europe and the United States go head-to-head in match play competition. Drama, tension, incredible golf, camaraderie and sportsmanship are served in equal measure, captivating an audience of millions around the world. It's an event that transcends sport, yet remains true to the spirit of its founder, Samuel Ryder.
The very 1st Ryder Cup event took place in 1927 in Worcester, Mass.
    UNITED STATES WINS INAUGURAL RYDER CUP
As the event is held every 2 years, the location of the event alternates with each event.  The very first event took place in the United States,  two years later the 2nd annual event took place in Leeds, England and alternated accordingly.
GOLF  TRIVIA:
For all you trivia buffs out there, here is an interesting tidbit for you…. The event has always taken place on Odd years  from 1927 – 1999.  In 2001 the event was postponed due to America being attacked by terrorists on 9/11.  The event was then held in 2002, which brought the event to even years from 2002 thru 2018.  The 2020 Ryder Cup had been postponed because of the coronavirus pandemic.
The 43rd Ryder Cup, scheduled for September 22-27, 2020, at Whistling Straits in Kohler, Wisconsin, was then rescheduled for September 24-26, 2021.  This has now brought us back to being played during odd years once again.
Where is the Ryder Cup being held?
This year it's the American's turn to host the Ryder Cup and team captain Steve Stricker has selected Whistling Straits Golf Course in Kohler, Wisconsin, as the venue for the contest.  It's a par 71, 6,757 yard links-style course sculpted along two miles of the Lake Michigan shoreline, created by Pete Dye and ranked as the third best course in America.
https://www.rydercup.com/news-media/herb-kohler-on-pete-dye-and-whistling-straits
DUSTIN JOHNSON ( Myrtle Beach Local Boy)
Each team consist of 12 members and our local Myrtle Beach boy, Dustin Johnson tops off the teams list.
| UNITED STATES | OWGR | AGE | RYDER CUP | BREAKDOWN |
| --- | --- | --- | --- | --- |
| | 2 | 37 | 5th | D.J. has been fine over the course of his Ryder Cup career (7-9-0), but he's been magnificent at Whistling Straits. He (infamously) finished T5 at the 2010 PGA Championship and followed that with a T8 at the 2015 PGA. He's trending a bit, too, ranking fifth on this team over the last three months in strokes gained. |
Will Tiger Woods Attend?
On Monday, captain Steve Stricker was asked if he expected  Tiger Woods to either play or attend.  Woods who continues to recover from multiple injuries sustained in a single-vehicle accident in February, to make a cameo this week at Whistling Straits.
"Probably not going to happen," Stricker said. "He's been obviously in my ear a lot, and I call him pretty regularly. He's part of our Ryder Cup team. He's part of what we do. He's been part of so many of these teams."
Woods was a vice captain, and a player, at the 2018 matches in Paris and was a playing captain at the 2019 Presidents Cup in Australia. He was likely in line for another vice captain's job at Whistling Straits, but Stricker said the physical demands wouldn't allow him to travel.
Will There Be Drama Between Koepka and DeChambeau?  
There has been an ongoing feud between Brooks Koepka and Bryson DeChambeau   which has been one of golf's biggest storylines all year—not to mention one of the most interesting subplots entering this week's Ryder Cup. But Bryson wants to put it behind him once and for all, according to his longtime coach.
The years' long rift between two of golf's greats, Bryson DeChambeau and Brooks Koepka, could be over — at least in public for the short term. On Wednesday U.S. Ryder Cup captain Steve Stricker told Sports Illustrated he spoke with the two separately over the phone to ensure their beef wouldn't marinate into September's Ryder Cup.
"They assured me that the team and the country and everything else that goes into this is their [top priority]," Stricker said. "They said it's not going to be an issue, and I believe them. I trust them. As far as I'm concerned, it's been put to bed."
The beef began unceremoniously in 2019, when Koepka needled DeChambeau about his slow play, but things — in the words of Ron Burgundy — escalated quickly. The two then argued over who would win in a fight, questioned each other's physiques and potential steroid usage, and engaged in a hilariously salty Twitter back-and-forth.
Oh, and the infamous Koepka eye roll at the 2021 PGA Championship.
Stricker claims Koepka and DeChambeau have put their problems behind them, though, giving the American squad hope to turn its recent Ryder Cup fortune around. The U.S. has lost to the Europeans in nine of the last 12 Ryder Cups yet still owns a 26-14 all-time lead.
But while Koepka and DeChambeau may have reached a détente , Stricker told Sports Illustrated he doesn't foresee them teaming up for the Ryder Cup.
"I'm not going to tell you there's no chance," Stricker said, "but I don't see it happening, no. I don't think they want to play together."
Koepka and DeChambeau have been relatively quiet ahead of the Ryder Cup, which Stricker explains as a conscious effort to prevent their rift from becoming the "root of a problem" for the American squad.
That quiet could very well pass after the Ryder Cup's conclusion, according to a not-so-subtle comment from Koepka during The Open.
"It's only a week," Koepka said of the Ryder Cup. "Look, I can put it aside for business. If we're going to be on the same team, I can deal with anybody for a week.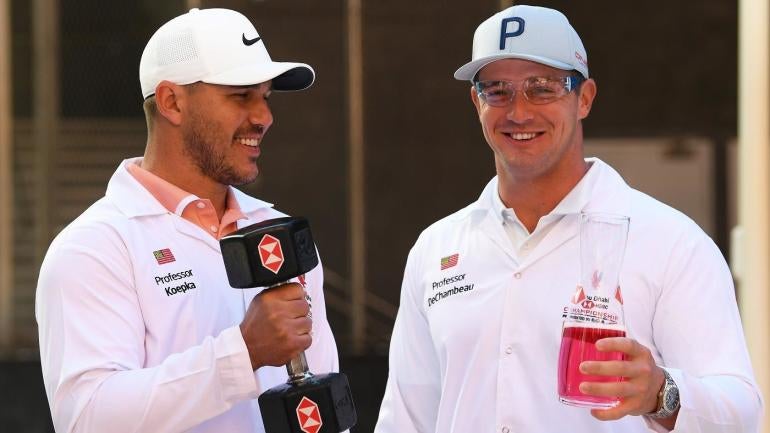 Can We Win The Cup On Homeland Turf??     
Since the event began back in 1927, the United States has won 26 out of the 42 matches to date.  This year will be held in the United States…  Can we win the cup on homeland turf?
Tune in from Friday, September 24 – Sunday, September 26 to find out.
Interested in booking a

Golf Vacation in Myrtle Beach

or surrounding areas? 
Contact: Tom Perry