What is the first question you ask a Golf Director when booking your golf vacation?  "How are their greens?"
Players love a good challenge.  They don't want to go to a course where they just breeze through it.  Sure you can get through 375 yards in just a couple of shots, but what is the fun in that?   Bring on the challenge !!!
Myrtle beach has 90 golf courses to choose from, with a wide variety of greens.  Here we will discuss four layouts with some of the largest and oddest putting surfaces along the Grand Strand.
#1:  HERITAGE CLUB: Located on the South end of Myrtle Beach, SC.
Heritage Club is rated #7 of the best course you can play in South Carolina by GolfWeek Magazine.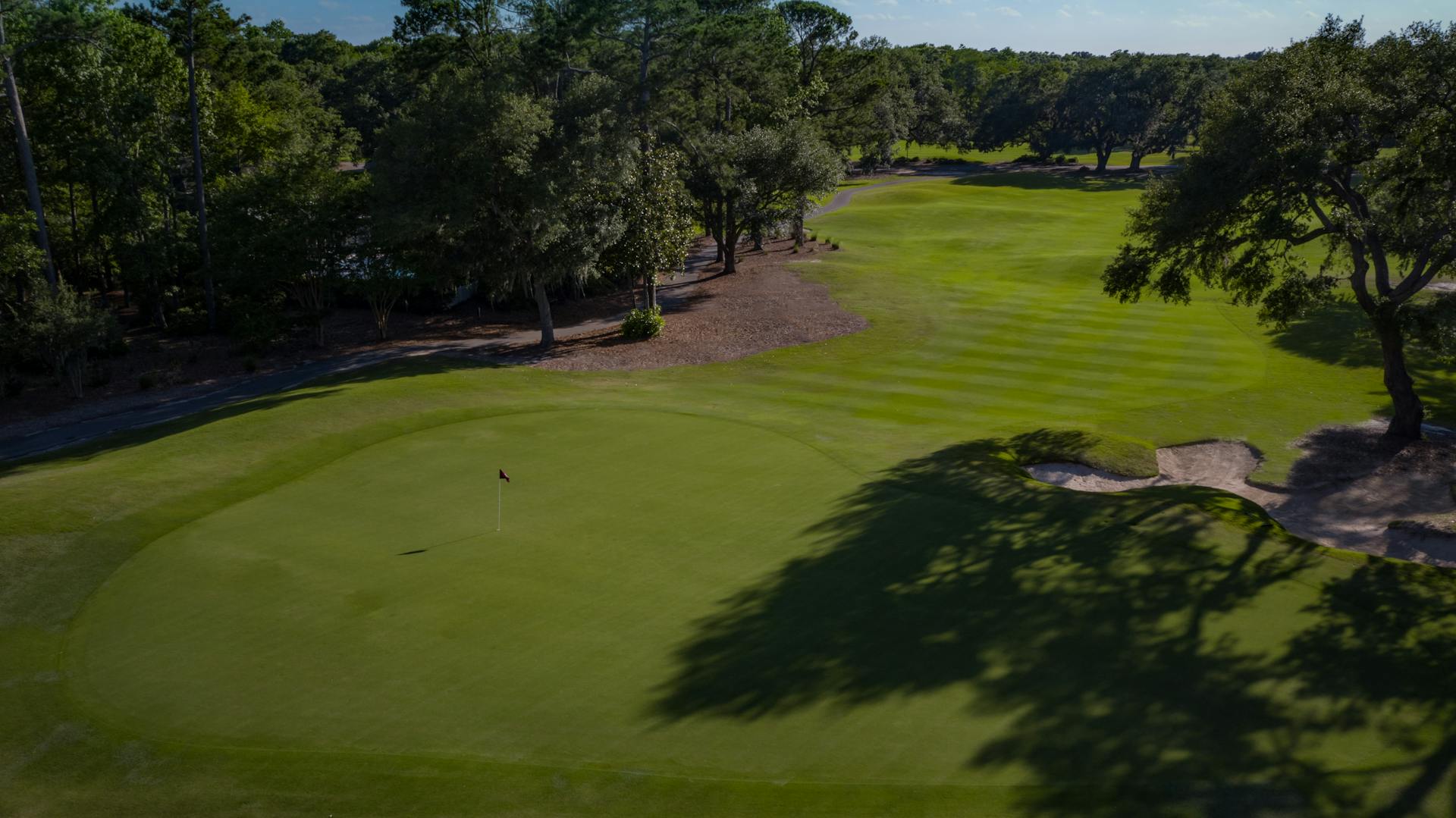 If you like nice smooth greens, flat as a board to make that easy hit, then watch out for the 5th hole at Heritage Club.  It is a nightmare!  Some would call it a roller coaster of golf courses.  This hole will challenge you like no other.  The Heritage Course also provides two very unique and historic holes.  There is a slave cemetery on the eighth hole at the Heritage Golf Club and George Pawley, the man Pawleys Island was named after, was buried just off the fourth hole.   So if you do not do well on this course,  it just might come back to Haunt you.
#2: TRUE BLUE GOLF COURSE:  Located in Pawley's Island, SC.
If you are a player that seems to find yourself in the bunker more often than on the greens, this course will present you with a wide variety of some the prettiest and most difficult bunkers you can imagine.  Let's see you try to dig yourself out of this one !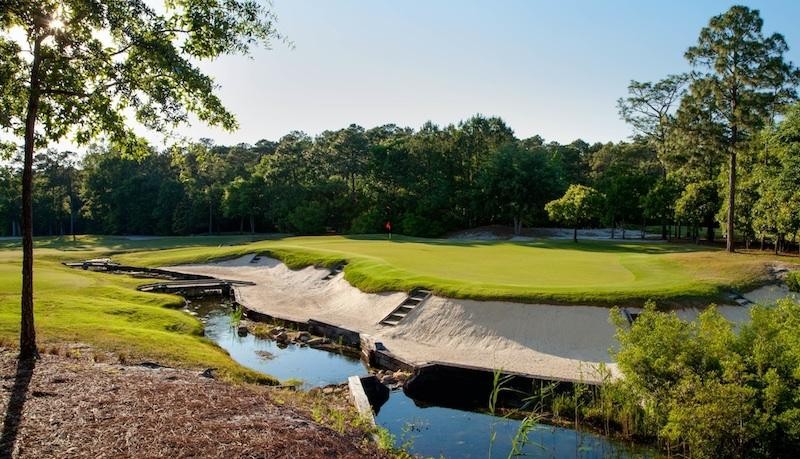 If you like big, then you will love True Blue.  Everything is big here from the fairways to the bunkers, not to mention the greens.   There is not a putting green on this course with less than 30 yards of depth, the longest is located on the 18th hole, measuring a humungous 54 yards from beginning to end.  On this course you will find the par 3 – seventh hole is the easiest when the flag is at the bottom of a 3-tiered green; but move that flag to the top of the 45-yard putting surface and you have yourself quite the bear.  So dig in and give it your best shot.
What can top True Blue you ask?
#3:  GRAND DUNES RESORT CLUB:  Located in the heart of Myrtle Beach, SC.  Due to the spectacular seven holes that play along the Intracoastal Waterway, PGA Magazine called Grande Dunes "one of the great golf clubs in the world."
Grand Dunes has a spectacular layout, designed by Roger Rulewich Group.  This course is positioned on a high bluff creating a sensational view of the Intracoastal Waterway, Grande Dunes Marina and the four-diamond resort, Marina Inn at Grande Dunes.
#4  Heathland Course:  Located in Myrtle Beach, SC
Legends Resort provides five of the most popular courses in Myrtle Beach.  One of them is the unique  Heathland Course .  This Tom Doak design has been distinctly built in the image of the British Isles links courses, with holes reminiscent of familiar ones like St. Andrews, Lahinch and Cruden Bay.  This course features large greens, including the 17th, which offers the possibility of a 162-foot putt. The undulation isn't as severe as Heritage, but you better be a good lag putter.
Well there you have it.  If you feel like playing on a course that's a little off centered, come check out some of oddest greens Myrtle Beach has to offer.  You will find yourself a memory of a lifetime.
To Book Your Golf Vacations
Call Tom Perry
Myrtle Beach Golf Directors
(843)249-5800
or email: info@Myrtlebeachgolfdirectors.com
www.MyrtleBeachGolfDirectors.com
Some information provided by Chris King at Myrtle Beach Golf Trips.)